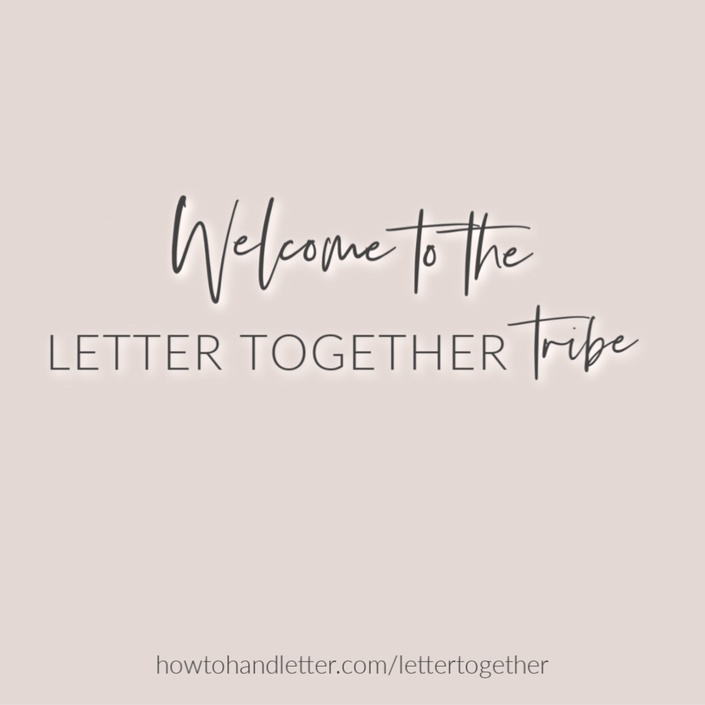 Letter Together Monthly Membership
What's Included…

1 set of printable lettering worksheets every month. These worksheets may cover a different theme, technique, skill or style so that we can practice or lettering together!
1 Tips & Tricks video. These videos are where I share my own tips and tricks in hope of helping you get the most out of your practice worksheets.
Monthly list of lettering prompts. Each month you will receive a list of words to guide you throughout your daily practice. Sometimes it's hard to know what to letter, so this list will give you a word (or phrase) to practice on your own each day of the month.
1 Real-time 'Letter With Me' video. These videos are where I share my own lettering practice in real-time so that you can follow along with me. If you're not sure what to practice, you can grab your pen and follow right along with this video.
Access to our private Facebook group to ask questions, share your work, and watch exclusive videos that I create every month just for members! These videos include Q&A's, tips, tutorials and live lettering!
This course is closed for enrollment.
Frequently Asked Questions
Is this a course?
No. Letter Together is a subscription where you will receive new digital download printable handlettering worksheets once per month! By subscribing to Letter Together, you will also have access to our private Facebook community. If you are looking for my handlettering course, you can join my free 7 day handlettering course at howtohandletter.com/minicourse.
Where are the digital download worksheets stored?
Your worksheets will be available for download within the Letter Together student portal. New worksheets will go live the 1st day of the month and be available for you to download within that month. Worksheet files will be removed after the month is over, however you may download and save these files to your computer and use them as long as you would like. Worksheets are for personal use only and not to be distributed.
Are refunds available?
Due to the instant nature of digital downloads, refunds are not available. However, you may cancel at any time.
What if I don't have a printer?
All handlettering worksheets will be available to you as a PDF file for you to download and print. No physical copies will be mailed to you so you will need access to a printer to print these out for your own personal practice.
What type of files will the worksheets come as?
Printable handlettering worksheets will come to you as PDF Files only.
Will these be the same worksheets that are in your Etsy shop?
No! Letter Together members will receive brand new worksheets made specifically for them! This may occasionally include ideas or styles that are in the Etsy shop, but will not be identical. For example, I have a Bouncy Lettering workbook currently available on Etsy, but that may also be a style that we would like to practice in Letter Together. But it will not be the same workbook. If we do have a month where we practice bouncy lettering, I would then create brand new worksheets for Letter Together members!
What supplies do I need in order to participate?
I would recommend having a pencil or pen, paper and at least 1 type of brush pen. A majority of handlettering styles that I use are created using a brush pen, so this is something that you would likely want to have! However, the size of your brush pen doesn't have to be exact. You would also need access to a printer to print your worksheets.
This course is closed for enrollment.